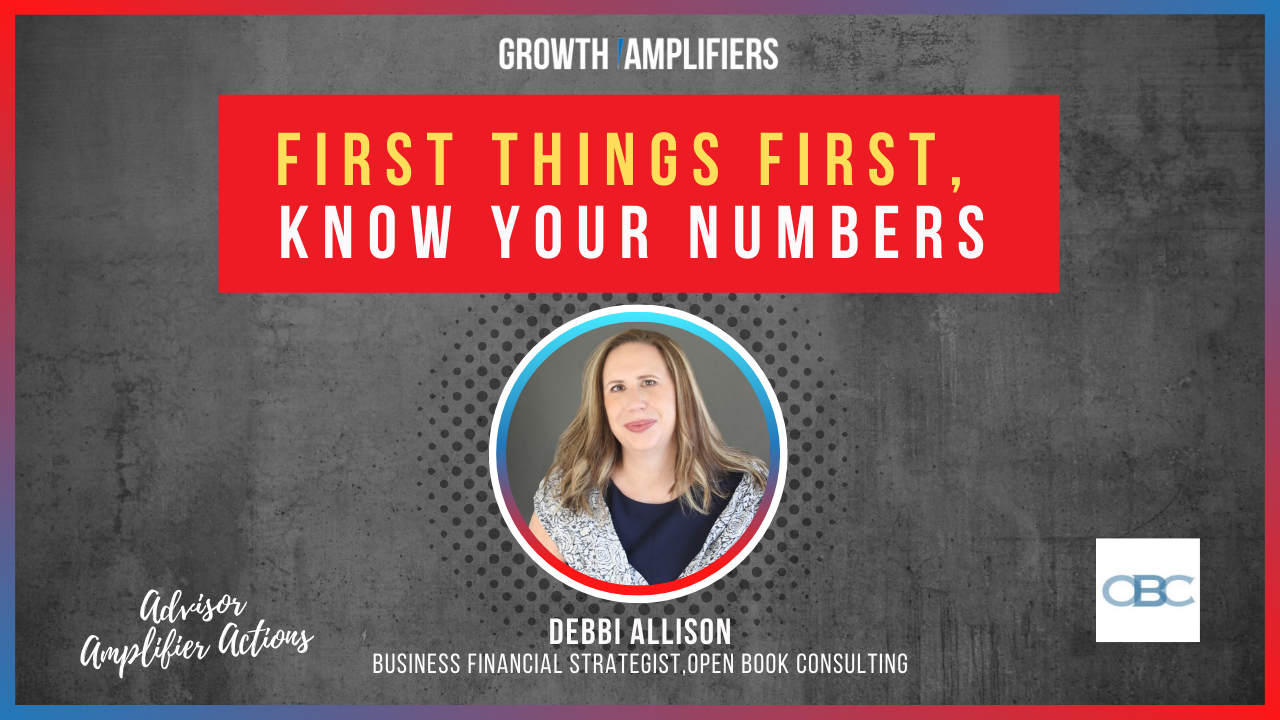 Debbi Allison
First Things First, Know Your Numbers
Debbi is a certified QuickBooks ProAdvisor with an AAS in accounting. As the owner of Open Book Consulting she specializes in QuickBooks consulting, education and bookkeeping management. Her occupational passion is helping business owners to succeed through better understanding and organization of their bookkeeping. Debbi has more than eighteen years of experience working with small businesses in many different industries.
In this episode of Amplified Actions, Debbi shares the where most business owners miss the mark.
Scroll down to see what Debbi had to say about Knowing Your Numbers First.
First Things First, Know Your Numbers with Debbi Allison
Today on Growth Amplifiers we interviewed the business finance strategist Debbi Allison. She is a Quickbooks Certified ProAdvisor, a CashFlow Tool Certified Pro, and a Certified Professional Business Advisor. Her business, Open Book Consulting, empowers entrepreneurs and owners to understand their business numbers, get educated and make better decisions.
Owning your own business is a lot of work. Much of that comes from managing the resources and numbers behind the business. When people follow their dreams to create a business that rocks, they may not know or understand their numbers. Often they don't have the spare time to educate themselves, review their numbers and plan a tax strategy around them. 
Yet there's a lot they can learn from monthly records besides profits or losses. The first step is to know your numbers. Next comes understanding which are most important, then how to make good use of that invaluable data.
Do You Know Your Numbers?
Debbie admits a lot of business owners only check their numbers once a quarter or once a year when they need to do taxes. She suggests being proactive with your data. Check the numbers monthly or even weekly. Daily can be too often for some people if doing so causes them to worry, but that constant information can sometimes be useful.
When forming a strategy around your numbers, Debbie reminds us to go back to basics and focus on how your cash flow can help the business do more. In other words, how can the money invested in your business help you make more money?
Looking at your numbers on a regular and frequent basis is a great start. If you only check what comes in and what goes out every week, you're ahead of many other business owners. For example, watching the spending of your business over time is necessary to see which customers cost the most. Advertising and office supplies do add up and you need to know this sooner rather than later. Consider why you spent that money and the efficiency of its use.
When looking at the profits, ask yourself what your goals are for the business and your tax strategy. Do you want to see the business grow as much as possible for the next ten years? Are you creating a steady income stream that you can someday pass on to a family member or friend? Does the business serve a cause which makes the mission more important than the money?
Knowing your numbers helps you make decisions about priorities and what you want out of life. Many times, Debbie has gotten to know people better through their business numbers. She enjoys helping them understand why they do what they do.
The Most Important Numbers
Knowing your numbers is only the start. Business owners can get overwhelmed by too much information. They don't always have enough time to review and understand everything. Instead, they should feel free to focus on a few important metrics.
Debbie suggests looking at big patterns that interest you. Don't take more than 5 to 10 minutes on any one review. Set aside some time on your calendar, then choose two or three key performance indicators to watch. You might follow your profits, spending and the net balance sheet. Debbie likes the gross profit margin, which allows you to look at what money goes into operations.
Other great numbers to track include revenue, accounts payable and accounts receivable, invoicing, expected spending and outflow, and even your bank balance. If you end most months with less money in the bank than before, you have a costs problem. Finding that issue may take more work, but knowing is the first step. This can save you from losing months worth of profit.
Think about what your goals are and what numbers will help you with them. Use your balance sheet software (or a piece of graph paper) to do a comparative analysis. This can let you notice things you wouldn't realize from the pure numbers alone. Make goals for where you want your numbers to be and track them over a certain span of time.
Following how your numbers move and what they do tells you what is working. Frequent checks also help you trust the direction of your business. Once a year checks might be too late for a business-saving course correction.
One Step To Take Today
Take back control of your numbers and build a solid financial tax strategy. Open up your balance books today, or set up a meeting with your bookkeeper and have a conversation. They know more about what is going on in your business than you may realize. If you ask the right questions, they often have some great observations to save you time. 
With the fundamentals in place, you'll make better business decisions. Continue to review your profits, costs and a few important metrics each month. You can do this on your own, but if you need any help with either understanding your numbers or saving time on what comes next, Debbie encourages you to book a consultation soon with Open Book Consulting.